Life Works


(Be Free Be A Leader)
Who is running your life: you or your problems?
Do you love your life? What's next for you?
Set yourself up to succeed. Take leadership and realise your dream.
Life Works
Be Free Be a Leader
Are you in the job you love?
Can you make a presentation easily?
Is your business going the way you want it to?
Can you sell yourself at an interview?
Are you fed up of short term gimmicks?
Be the author of your life with our group coaching programme
It's not a quick fix but a long term, seven month, result-focussed coaching/training programme
We have designed a thorough, fully focussed 7 months coaching and support programme to help you to use as a vehicle to take on your life's challenges or ambitions and actually make it happen in results!
For a free initial 1 hour consultation and focus session, please contact:

Download Programme Brochures: February 2016 | March 2016
Freedom Works UK Events
To get 1 hours free coaching session please sign up here
Join our news letter & get a free consultation & a discount of 15% off the next short or long course!
(your details will never be passed to anyone and you wont be bombarded with lots of spam, just a few carefully selected communications no more than 1 a week maximum & one quarterly news letter)
"I have just completed the Be Free Be a Leader Programme it has been an amazing journey, I learnt to use distinctions which set me free from any issues that stops me succeeding in life. This programme has encouraged me to take action and has pushed me out of my comfort zone in terms of completing a project with the community and leading a workshop. This has given me a real boost of confidence and made me realise my full potential and now I can aim to go even higher." Evonne
"I really enjoyed this session [Speakers Corner Workshop], it challenged me and pushed me to go out of my comfort zone. It helped me lose my inhibitions a little and not care what other people think. I feel more confident as a result – I will definitely be back!" Angela
"Thank you so much for such engaging and thoroughly enjoyable sessions. All the feedback has been extremely and exceptionally positive because you were truly terrific and greatly appreciated by us all." Alan Margolis – Hampstead Training Consultants
"I came across Freedom Works when I was looking for something different, I was frustrated with those 1 or 2 days 'fix your life' courses. The workshop was about to start but even though they were fully booked Ken Hettiarachi was very helpful and made an exception to fit me in. This isn't a quick fix course, it is 7 months of coaching, training, working by your side to find your needs and getting you working on them. From the first day Ken managed to find my limited beliefs and coached me on them. My business and personal life are now stronger, more profitable and now I understand that I was the one stopping me from achieving my goals. If you are looking for a coach, a friend and mentor I highly recommend working with Freedom Works. Thanks Ken & Chris" Gilberto De Souza – Epic Body Fitness Training
Book a free and confidential meeting with us now to talk about what you want to accomplish.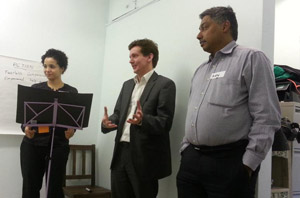 Freedom Works UK coaching and mentoring programmes are open to all. All we ask is that participants come to us with an open mind, and a desire to make a positive change in their lives through their own hard work and dedication. We provide the support, motivation, skills and contacts to help you achieve your goals.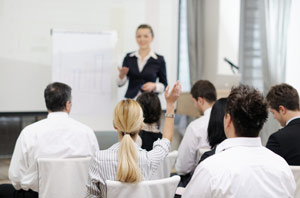 Investing in the training, development and progression of employees is one of the key signs of a quality organisation. Freedom Works UK is therefore delighted to partner with organisations, large and small, to deliver personal or professional coaching to their staff.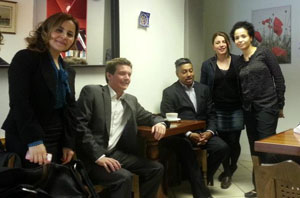 London is full of bright and ambitious people with their own goals and dreams.  But not everybody has the help and support they need, and we acknowledge that many could not afford to participate in our coaching and mentoring programmes on their own account.
Individual Coaching detail >
We offer highly trained, highly experienced coaches and mentors to help you to define your challenge, and a realistic, achievable plan of attack. As you progress through our three-phase 'Be Free, Be a Leader' programme (over a period of 7 months in total), you will learn how to focus your objectives, understand the challenges and – above all – deliver results. And if you're not sure whether to 'take that leap', we offer our 'Short Shots' – focused, 3-hour workshops that will introduce you to the Freedom Works UK methodology, and give you a taster of what to expect.
Click here for full programme details
.
Organisational coaching detail >
Whether it be for an individual employee or entire teams, we will be happy to work closely with your training/HR teams to understand the business objectives and then define and deliver actionable, measurable results through your employees.
Employees will follow our tried-and-tested 'Be Free, Be a Leader' programme, but tailored in a way to align with your specific business aims. As you would expect, not only will we work closely to support and mentor your staff throughout the process but we will also support and train you in the methodology we use so that you can carry on the transformation, leadership and reinvention necessary to keep your business at the top of your league.
Community Works detail >
'Community Works' is Freedom Works UK's community programme, and is aimed at providing our core 'Be Free, Be a Leader' coaching and mentoring programme to a group of individuals who could otherwise not afford to take part.
Community Works is a joint effort – funded in part by Freedom Works UK, but also by sponsorship and contributions from individuals and other organisations. We are always keen to hear from potential sponsors and donors for the Community Works programme. For more information, please see our Community Works page or contact us directly.
"It has been an awesome experience to be  a graduate of the BFBL, the tools you have taught in the training actually do work. I was a course Junkie, chasing a dream. Once upon a time I had little self worth and I was highly critical of myself.  Through the training, I have had major breakthroughs, this was totally through Ken and Chris's extensive networks.  They really do care, they are very supportive and they are only a phone call away. They really do want you to succeed. Take action now! Tomorrow is not guaranteed, so Be Free, Be a Leader!"
Juliyah
"[Freedom Works UK] is helping me to understand why I feel anxious and has given me tools to overcome this and best of all has helped me to actually use these tools so I feel better and more confident and am doing things I have been avoiding for years."
Laura
"The program was amazing and gave me much more than I expected from it. After completing the Be Free Be a Leader program I was left with a whole new angle in my life"
Carl.
"Offers excellent coaching, natural leaders and people people who helps unlock your true potential. Freedom Works offers freedom workshops for people with anxiety, low self esteem or low confidence issues, which is a superb support network for any higher education student wanting to surpass their issues in public speaking and presentations or general excellence on course work."
Lizzy
"There is a lot to be learnt and gained from the workshops and meetings. I now understand myself a lot better and feel in better control of my life. I have gained the confidence to try out new things and feel inspired to take my life forward and start living in the right direction, because life is for living to the fullest. If you think that there is no way, think again, because you can change that. I did."
Parmdeep.
"In just a few short months Freedom Works has helped me to see how my negative self-beliefs have been holding me back from living the life I want and having the career that I am trained for. I thought I would never be able to stand up in front of others and give a speech, or do a presentation. Freedom Works gave me the tools to do just that and as a result of my new found confidence I am now planning my first community project. I feel privileged to be coached by such professional people. I never imagined that that my life would change this quickly. The great thing about Freedom Works is that they offer you an amazing opportunity to transform your life and somehow they have managed to make it affordable."
Clare.
"Very experienced coaches and practical coaching. I had the pleasure of attending and accomplished their Freedom Workshops. Thanks to that I have gained lots of practical knowledge. Now as a workshop leader myself I am able to help more effectively people coming to my workshops. I would certainly recommend Freedom Works UK to anyone who wants to be a professional coach for other people."
Kris.
Freedom Works UK Blog
A coach once said to us, "So there is this thing called the game of life. It's a bit like a horse race. There's your favourite horse, you bet on the likelihood of your favourite win. You can either bet £5 or you can bet your house on that horse. If you bet £5 it doesn't matter to you much if your horse lost, but if you bet your house on that horse, well that's different. You will go to the stable, talk to the owner, make sure the jockey is a good one, check the ground. There is something different when you bet something big, something is at stake. So in the game of your life what are you betting on? What's at stake for you? Your house or £5?
read more